Antique lace in small or large quantities for collecting and study or for use in clothing and decorating
~~~~~~~~~~~~~~~~~~~~~~~~~~~
Identification: "what is it?" and "what is it worth?" are the questions most often asked about lace. Our antique lace page is intended to help you determine the style and value of your lace. We offer an identification service. For details please contact lacemaking@msn.com
Appraisals: we offer a professional appraisal service. For details please contact lacemaking@msn.com
Framing: exclusive professional framing is available using a shadow box frame and the lace mounted on a rich scarlet background (a royal red). This system is developed by our company to conserve the lace and enable it to breath. For details please contact lacemaking@msn.com
ORIGINAL HANDMADE ANTIQUE LACE AVAILABLE FOR SALE
(click on the aqua #A.. for picture and info)
Alencon lace: #A1039
Bucks Point: #A1046
Cluny lace: #A1002
Duchesse Appliqué: #A1003 & #A1004 & #A1014 & #A1016 & #A1024 & #A1030
Filet lace: #A1042
Honiton Application: #A1031 & #A1032
Lier lace: #A1006
Mechelen lace 18th century: #A1001 & #A1021 & #A1035 & #A1036
Mechelen lace 19th century: #A1022 & #A1018 & #A1029 & #A1041
Old Flanders lace 17th century: #A1038 & #A1044
Point de Gaze: #A1008
Point de Rose Appliqué: #A1005 & #A1015
Point de Lille: #A1007 & #A1020
Valenciennes 18th century: #A1037
Valenciennes 19th century: #A1027 & #A1028
This lace is available in small or large quantities. Each piece has a reference regarding its size, availability, color and condition:
- EC is in excellent or perfect condition
- GC is in good condition and may show minor damage due to the age
- MC is in medium condition with stains or holes due to age
- PC is in poor condition with stains or holes
All pieces are priced according to their condition. Please note that almost all of this lace is between 100 and 300 years old and minor discoloration or damage is to be expected.
The price differs according to the age, rareness and condition of each piece.
You may order per inch (or per foot and/or per pattern repeat: if you express the lenght - or L - in inches) for collecting or framing purposes. You can purchase the entire piece for garments, dresses, wedding gowns and decorations. Availability per pattern repeat is indicated. Put a clarification in the area "Comments or Special Instructions" following your mailing information on the order form. If you order "one piece" just put 1 in the order window.

No part of this page may be printed, copied or reproduced in any way without explicit written permission of the publisher (see last line).
#A1001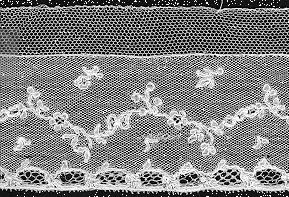 Copyright © 1998/2002 L&A.- Webmaster WJL at LaceSupply@aol.com
#A1001 - Mechelen lace - 2" wide - white with footwork - GC - sold out

----------- Back to top -----------
#A1002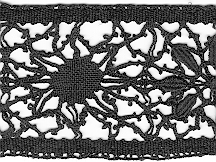 Copyright © 1998/2002 L&A.- Webmaster WJL at LaceSupply@aol.com
#A1002 - Cluny - 2" - black - EC - sold out
----------- Back to top -----------
#A1003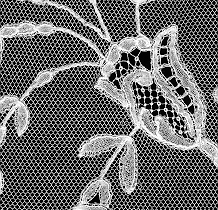 Copyright © 1998/2002 L&A.- Webmaster WJL at LaceSupply@aol.com
#A1003 - Scarf in Duchesse Appliqué - 17"L x 40"W - GC - white - one piece - sold out
----------- Back to top ---------
#A1004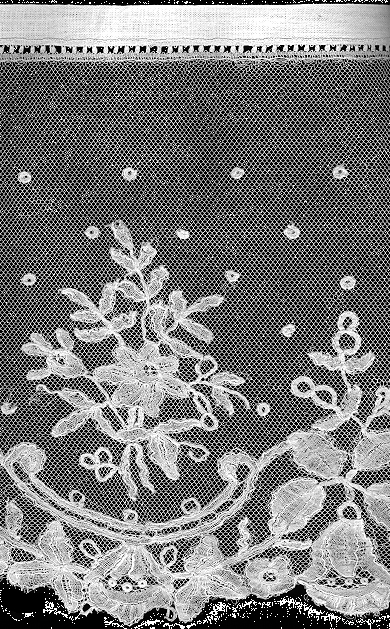 Copyright © 1998/2002 L&A.- Webmaster WJL at LaceSupply@aol.com
#A1004 - Duchesse Appliqué - 26"L x 8"H - beige with footwork - EC - available per design repeat(s) 6.5"L x 8"H or the entire piece - (8" Wide) - sold out
----------- Back to top -------
#A1005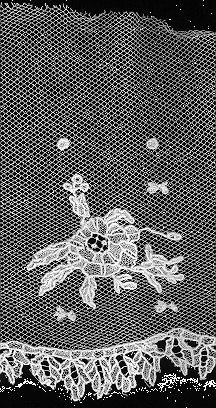 Copyright © 1998/2002 L&A.- Webmaster WJL at LaceSupply@aol.com
#A1005 - Point de Rose Appliqué - 72"L x 5"W - 19th C. - beige - GC - $70 - special design with (Christian) symbol of the fish and bread in the center - sold out

-----------

Back to top ---------

#A1006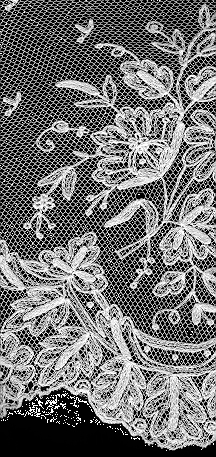 Copyright © 1998/2002 L&A.- Webmaster WJL at LaceSupply@aol.com

#A1006 - Lier lace, 19th C.- 33"L x 6"W - GC - white - available: per design repeat(s) of 8.5"L x 6"W or the entire piece - $2 per inch (6" wide) - sold out

Copyright © 1998/99 L&A.- Webmaster WJL at LaceSupply@aol.com
#A1007 - Point de Lille - 22"L x 1.5"W - off-white - with footwork - GC - $1 per inch (1.5" wide) sold out Copyright © 1998/2002 L&A.- Webmaster WJL at LaceSupply@aol.com
#A1008 - Point de Gaze - 3" - off-white - PL4 - sold out

----------- Back to top --------- Copyright © 1998/2002 L&A.- Webmaster WJL at LaceSupply@aol.com
#A1014 - Scarf in Duchesse Appliqué (shown: corner) - 19th C. - 45" x 14" - off-white - GC - finished all around - $45 - sold out

----------- Back to top --------- Copyright © 1998/2002 L&A.- Webmaster WJL at LaceSupply@aol.com
#A1015 - Point de Rose sur Tulle - 160"L x 14"H - off-white - with footwork - GC - available by repeat 3.5"L x 14"W - a perfect machine imitation - $2 per inch (14" wide)

-----------

Back to top -------- Copyright © 1998/2002 L&A.- Webmaster WJL at LaceSupply@aol.com
#A1016 - Duchesse Appliqué - 43" x 23" - Scarf - finished all around - GC - off-white - sold out

-----------

Back to top --------- Copyright © 1998/2002 L&A.- Webmaster WJL at LaceSupply@aol.com
#A1018 - Mechelen, Empire style, 19th C.- 32"L x 3"W - off-white - GC - $5 per inch (3" wide) Copyright © 1998/2002 L&A.- Webmaster WJL at LaceSupply@aol.com
#A1020 - Point de Lille, 19th C.- 2.75" - off-white - GC - PL2 - sold out

-----------

Back to top --------- Copyright © 1998/2002 L&A.- Webmaster WJL at LaceSupply@aol.com
#A1021 - Mechelen lace, mid 19th C. - 3" - white - GC - sold out

----------- Back to top --------- Copyright © 1998/2002 L&A.- Webmaster WJL at LaceSupply@aol.com
#A1022 - Mechelen lace, Empire style - begin 19th C.- 119"L x 2.5"W - off-white - MC - $4 per inch (2.5" wide)

-----------

Back to top --------- Copyright © 1998/2002 L&A.- Webmaster WJL at LaceSupply@aol.com
#A1024 - Duchesse Appliqué - 10" x 4" - MC - white - $3 per inch (4" wide)

sold out

----------

Back to top --------- Copyright © 1998/2002 L&A.- Webmaster WJL at LaceSupply@aol.com
#A1027 - special Valenciennes lace with snow flakes fillings - 42"L x 4"W - beige - GC - $3 per inch sold per repeat of 10" (4" wide)

-----------

Back to top -------- Copyright © 1998/2002 L&A.- Webmaster WJL at LaceSupply@aol.com
#A1028 - Valenciennes - 157" x 1.5" - off-white - EC - LP1 - sold out

----------- Back to top --------- Copyright © 1998/2002 L&A.- Webmaster WJL at LaceSupply@aol.com
#A1029 - Mechelen - 2.5" - 19thC. copy of an 18th C. design - white - GC - LP2 - sold out

----------- Back to top --------- Copyright © 1998/2002 L&A.- Webmaster WJL at LaceSupply@aol.com
#A1030 - Duchesse Appliqué - 12"L x 4.25"W - white - GC - $2 per inch (4.25" wide)

-----------

Back to top --------- Copyright © 1998/2002 L&A.- Webmaster WJL at LaceSupply@aol.com
#A1031 - Application Honiton - 3" - white - GC - LP1- sold out

----------- Back to top ---------- Copyright © 1998/2002 L&A.- Webmaster WJL at LaceSupply@aol.com
#A1032 - Application Honiton - 2.5" - with footwork - off-white - GC - LP1 - sold out

----------- Back to top --------

#A 1034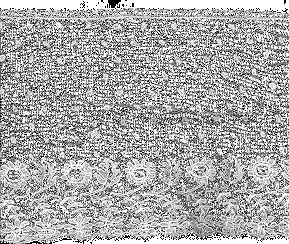 Copyright © 1998/2002 L&A.- Webmaster WJL at LaceSupply@aol.com
#A1034 - Mechelen, 19th C.- 20"L x 3"W - off-white with footwork - MC - $4 per inch (3" wide) Copyright © 1998/2002 L&A.- Webmaster WJL at LaceSupply@aol.com
#A1035 - Mechelen, end 18th C. - L x 4"W - off-white - MC - $5 per inch (4" wide) - sold out

-----------

Back to top --------- Copyright © 1998/2002 L&A.- Webmaster WJL at LaceSupply@aol.com
#A1036 - Mechelen, 18th C. - 110"L x 1.75"W - off-white - GC - $5 per inch (1.75" wide)

-----------

Back to top --------- Copyright © 1998/2002 L&A.- Webmaster WJL at LaceSupply@aol.com
#A1037 - Valenciennes, 18thC.- 32"L x 1.2"W - beige - GC - $5 per inch (1.2" wide) sold out

-----------

Back to top --------- Copyright © 1998/2002 L&A.- Webmaster WJL at LaceSupply@aol.com
#A1038 - Old Flanders Milanese with bars, 17th C.- 75"L x 3.75"W - beige - GC - $7 per inch (3.74" wide)

-----------

Back to top --------- Copyright © 1998/2002 L&A.- Webmaster WJL at LaceSupply@aol.com
#A1039 - Alencon, 18th C.- 2.5 wide - off-white - GC - sold out

----------- Back to top --------- Copyright © 1998/2002 L&A.- Webmaster WJL at LaceSupply@aol.com
#A1041 - Mechelen Empire Style 19th C.- 40"L x 2"W - off-white with footwork - MC - $4 per inch (2" wide)

-----------

Back to top --------- Copyright © 1998/2002 L&A.- Webmaster WJL at LaceSupply@aol.com
#A1042 - Filet Lace - 62"L x 2.5"W - beige - EC - $1 per inch (2.5" wide)

-----------

Back to top --------- Copyright © 1998/2002 L&A.- Webmaster WJL at LaceSupply@aol.com
#A1044 - Old Flanders Milanese Style - 33"L x 3"W - beige - 19th C. copy of 17th C. Flanders - GC - $6 per inch (3" wide)

-----------

Back to top --------- Copyright © 1998/2002 L&A.- Webmaster WJL at LaceSupply@aol.com
#A1046 - Bucks Point - 6"L x 2"W - white - GC - $1 per inch (2" wide) sold out orderformlace items and prices change all the time


Copyright © 1998/2007 L&A.- contact WJL at Lacemaking@msn.com
All rights reserved.

~~~~~~~~~~~~~~~~~~~~~~~~~~~~~~~~~~~~~~~~~~~~~~~~~~~~