Lace, Lace making Supplies & Antique lace: European lace bobbins, Battenberg & Princess lace tapes, lace tools, antique lace, wearable lace, mini bobbins, Bockens linen lace thread. How to make lace: free lace courses, patterns and designs. Kantklossen - Dentelle aux fuseaux. Lists of lace-groups, lace-teachers and lacemaking suppliers. Join the LACEMAKING CIRCLE for daily promotions. All in a family-friendly environment.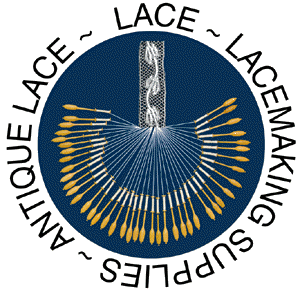 Lace, Lacemaking Supplies & Antique Lace
Your Source for Quality Lace Supplies
Providing you with the highest quality European Lace Bobbins and other lace-related items direct from the manufacturer, imported in the USA at the lowest prices. Oversees shipping cost and US Customs import fee is included. Mailed to you by two/three day USPS Priority Mail with Tracking Service. Click here to go to the LACEMAKING CIRCLE - a wholesale discount service club that gives you substantial daily promotions and special discounts up to 50% and check our customer's TESTIMONIALS
This is a Certified Safe Shopping Site ~ all your order information is secure and encrypted.
Lace, Lacemaking Supplies & Antique Lace
3790 El Camino Real #103
Palo Alto, California 94306-3314 USA
Tel. 1-650-949-1096 ~ Fax. 1-650-948-5512
email: lacemaking@msn.com
Orders: use the direct order links at each page
Lace, Lacemaking Supplies & Antique Lace is part of Lauriks & Associates (L&A)
sign our guest book below and receive Lacemaking Circle discount coupons and special promotion info through your mail (only completely filled out request will be processed / your information will be private and used exclusively for the purpose of sending you Lacemaking Circle discount coupons)
LINKS
GO TO OTHER LACEMAKING SITES at: http://coolcraftsites.com/directory/Lacemaking/index.html
INTERESTING SITE FROM THE Czech Republic AT: www.palickovani.cz
Antiques Information Resource Website: http://www.AntiquesPeople.com
Ebay Search Engine: Snap Search
Craft World on line: http://www.craftworldonline.com


GENERAL INFORMATION STATEMENT and PRODUCT INFO
How to keep your bobbins shiny: the finest product you can use is the natural oil from your hands. Therefore our best recommendation is that you use them often and they will always look like they did on the day you received them. High quality HARDWOOD: our bobbins are not coated or varnished. The wood is polished to its natural high sheen: the hallmark of excellent hardwood. The types and sections of wood are selected for their durability and other characteristics: resistance to termites and other infestations. Their high density permits finishing the bobbins without varnish or stain. Not a single endangered tree has been destroyed for their manufacture. PRICES and order information: we will only charge (or process) your credit card at the time we are shipping your order. The cost each is the listed price at time of processing minus the discounts at that time. Prices and discounts are subject to change without notice. The Lacemaking Circle DISCOUNTS may change daily. The ORDER information you are sending uses a secure website and your Credit Card information will be encoded. By using our online order system you agree with the conditions stated in this statement. PRIVACY: Your name and information will not be sold or exchanged with any other company. COPYRIGHT: the Lace Magazine international, the bobbins and all images are copyrighted ©1982/2005 by L&A, Palo Alto, CA, USA. All rights reserved. No part of this publication may be duplicated in any form, even electronically, without the express written agreement of L&A. RETURN POLICY: If you are not completely happy, return your bobbins within 15 days in the same condition by USPS insured Priority Mail and we will promptly send you a refund check for the full amount (minus the original mailing and insurance cost). We even enclose a return label with your bobbin order. Sales of cut items are final. Return check fee $15 in addition to bank fees. No returns on items sold at "Special Price". TRACKING: you will be able to track each order on line with a tracking number. We are only responsible for shipping your order. Proof of shipping will be send at your request. See also our PRIVACY STATEMENT, INSURANCE note and MAILING COST info at the ORDER INFO page
Hardwood selection
.02 Guatambu

Balfourodendron riedelianium, Fam. Rutaceae. Cream to light beige in color, sometimes with a greenish tint. The wood structure is smooth with some occasional greenish grain. It is comparable to Hard Maple and grows in Brazil, Argentina and Paraguay.
.04 Bubinga

Guibourtia demeusei, guibourtia tessmanii, Fam. Leguminosae. The wood is rose-red with violet veins, showing as lines or flames. Very fine structure often used as veneer. It grows in Jabon and Cameroon.
.12 Palmwood

Buxus sempervirens, buxus macowani, Fam. Buxaceae. Very hard wood with fine grain. Very dense and hard to split, once cured. This wood is not related to palm trees. Small trees grow in the Caucasus mountains of Southeastern Europe and Middle East.
.15 Ebony

Diospyros sp. div., Maba sp. div., Fam. Ebenaceae. Brown or black, sometimes striped. It is extremely hard and durable. It grows in Ceylon, tropical West Africa, Southeast Asia and Madagascar.
.16 Padouk

Pyterocarpus soyauxii. Fam. Leguminosae. The original orange to light gray color fades to a soft reddish color. Very strong wood from tropical West Africa.
.17 Rosewood

Dalbergia nigra, dalbergia stevensonii, dalbergia latifolia, dalbergia sp. div., Fam. Leguminosae. Color variations range from pale white to orange red and orange yellow. Older trees have brownish red wood with dark, sometimes violet veins. Sweet scent. Very hard wood often referred to as Palissander. It grows in Honduras, Brazil, Near-East, Southeast Asia and Madagascar.
.20 Pinkwood

Dalbergia frutenscens var. tomentosa. Fam. Leguminosae. Also called Pink Rosewood. Precious wood, very durable and heavy. Creamy white to salmon pink with red bands and stripes. Grows in Brazil.
.01 Hard Maple

Hardwood similar to Guatambu but with a lighter color. It is specially selected to paint on. These bobbins are not polished. They are available polished by special order.
.18 Black Chacata

Chacate preto. Fam. Leguminosae. Is a dark brown near black with a few lighter honey brown streaks. Very dense wood with fine textured grain. Grows in Mozambique and South Africa. The more it is exposed to light, the darker it will become.
Copyright © 1998-2007 L&A-CA-USA - contact webmaster at Lacemaking@msn.com
No part of this page may be reproduced in any form without written permission.
All rights reserved.